60-Day Peaceful Skin Guarantee
If you don't love how your skin improves, you'll get a full refund without returning the bottle.
Why Oil-Free
Shampoo?
Dandruff is caused by a fungus called malassezia which feeds on oils. Most shampoos contain oil and promote the growth of malassezia.
Dermazen formulas give unique relief because we never use lipids that feed the fungus.
What's Inside
Nettle
Boost new growth, reduce hair loss, and nourish follicles
Willow Bark
Clear away malassezia and reduce oil with this natural form of salicylic acid
Colloidal Oat
Soften hair, replenish vitamin E, and soothe your scalp
Green Tea
Promote hair growth and protect hair from free radical damage
Apple Cider Vinegar
Disrupt the biofilm, balance pH, and increase blood flow to follicles
Tea Tree Essential Oil
Calm inflammation and eliminate fungus
Xylitol
Naturally disrupt the biofilm layer to weaken the fungus
Dead Sea Salt
Clear away malassezia and nourish your skin
200x Aloe Vera
Soothe your irritated scalp and calm inflamed skin
Grapefruit Seed
Eliminate fungus and boost antioxidants
Rosemary Essential Oil
Reduce oil and increase blood flow to follicles
Peppermint Essential Oil
Increase blood flow to follicles and promote new hair growth
Glycerin
Protect skin barrier, improve hydration, and reduce redness
Cocamidopropyl Betaine
Clear away dirt and oil with this natural surfactant curated from coconuts
Guar Gum
Condition your skin and harmonize ingredients
Purified Water
Hydrate and cleanse your skin cells dead skin
Benzylalcohol
Natural preservative cleanses bacteria and protects shelf life
That's it. No fragrances, parabens, or hard-to-pronounce ingredients.
Why It Works: Our 3-Step Process
1. Disrupt the Biofilm
Malassezia creates a biofilm shield that protects it from antifungal treatment. We've unlocked the secret to safely neutralize this barrier.
2. Clear the Fungus
Once the biofilm is removed, you can clear away the fungus easier than ever. We use skin-safe antifungals powered by Mother Nature.
3. Soothe the Skin
Now it's time to nourish and hydrate your skin without using lipids (like coconut oil) that feed the malassezia.
Keeping it Zen
We practice ingredient minimalism. Our goal is to keep the list of ingredients humble while formulating products more effective than anything else. That's why you won't find parabens, sulfates, fragrances, or hard-to-pronounce chemicals. Those are the opposite of peaceful.
The Peaceful Skin Guarantee
We removed all the risk. If you aren't amazed at the results, send us an email within 60 days and we'll send you a full refund.
How to use it
Wet your hair in the shower or bath.

Massage the holistic formula into your scalp as you thank your body for all its hard work.

Apply a generous amount of this deeply cleansing shampoo.

Allow the shampoo to absorb for 2-5 minutes. Use this time to cleanse and appreciate the rest of your body.

Rinse with water. Enjoy a happy scalp and healthy hair.

Suggested: Results will flourish when combined with the Calming Seborrheic Serum.
Customer Reviews
Write a Review
Ask a Question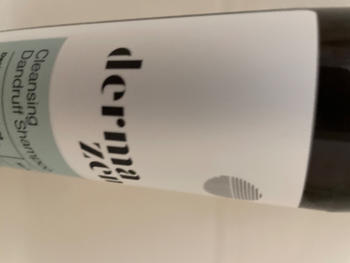 01/28/2023
Works well
It works pretty well. I have seen a a noticeable difference.
Matthew C.

United States
01/27/2023
Works!!
Great shampoo! Works fast and notice results immediately
Colw M.

United States
01/22/2023
A Solid Product
My Holy Grail item is the Calming Seborrheic Serum, and the shampoo compliments and enhances the effects of serum. I wasn't noticing substantial improvement just using the shampoo by itself, though. The itch went away but only briefly. The price point is very high for the amount of product included, but I understand it is a specialty item. All in all, I suggest pairing the shampoo with the serum.
Jay S.

United States
01/22/2023
Didn't work for me
I was very hopeful this would help because it has great ingredients but did work for my scalp & leaves my air greasy looking.
Kathleen B.

United States
01/22/2023
Best Shampoo Ever for SebDerm
Best shampoo for SebDerm. I find that other shampoos marketed for SebDerm were very drying to the hair. This shampoo effectively clears the scalp of flakes without drying hair too much.
Priscilla C.

United States
01/19/2023
Still on the fence
I have been using a natural shampoo bar for years with no issue. Recently, after a diet change, noticed dandruff that quickly and suddenly got out of control and caused me to see a derm. Was diagnosed with SD and prescribed steroids... I'm not going to do that, so... googled and found this. One month in, washing once a week, figure 4 washes so far: doesn't wash out easily and my hair at the root feels waxy when rinsing, but flaking and itching have subsided, still hopeful. Will report back on a decision after a real amount of usage.
Nadejda K.

United States
01/12/2023
Great product!!!!
The shampoo has been cleansing and brought relief! I could not be happier.
Joshua S.

United States
01/10/2023
Okay
It was good but very runny, I prefer the serum/overnight oil.
Vanity M.

United States
01/10/2023
Great Products
Derma Zen Shampoo and Dermazen Seborrheic Serum used together gave me the best relief for my seborrheic dermatitis that I have ever found. I appreciate this company's holistic approach to their products and business model. —Jim Perry
Jim P.

United States
01/08/2023
Watered down version of shampoo
In most recent order I received, the shampoo was watery and thin. Not sure if this is how it's supposed to be, but the previous order I had received was a much thicker formula that seemed like actual shampoo.
Alexander H.

United States
01/08/2023
Works!
The flaking is subsiding but taking longer than expected. Overall I think it is working. Because it doesn't have sulfates, it doesn't lather well (it's got natural surfactants, though). I find it lathers better with sopping wet hair, the more water the better.
Sarah D.

United States
01/01/2023
Works!
I can see a difference in my scalp. This product definitely helps keep the itch down
Jessica T.

United States
Choosing a selection results in a full page refresh.
Press the space key then arrow keys to make a selection.