60-Day Peaceful Skin Guarantee
If you don't love how your skin improves, you'll get a full refund without returning the bottle.
60-Day Peaceful Skin Guarantee
If you don't love how your skin improves, you'll get a full refund without returning the bottle.
Nourishing Hydration & Relief
The Soothing Malassezia Moisturizer hydrates, calms, and protects skin starting from the first application. You'll be amazed at the peace and health of your skin after using this gentle holistic moisturizer.
What's Inside
MCT Oil (C8, C10)
One of the only oils safe for malassezia. Moisturizes skin and clears away fungus
Frankincense Essential Oil
Shrinks pores, improves elasticity, and calms irritated skin
Lactic Acid 5%
Exfoliates dirt, bacteria, and oil while hydrating skin and cleansing pores
Vitamin B3
Reduces oil production, calms redness, minimizes pores, and balances skin tone
Urea 10%
Reduces oil production, boosts hydration, and gently exfoliates leftover skin
Hyaluronic Acid
Significantly boosts hydration and strengthens skin resilience
200x Concentrated Aloe
Soothes irritation, hydrates pores, and nourishes skin with vitamins and antioxidants
Glycerin
Protects skin barrier, improves hydration, reduces redness, and amplifies benefits of urea
Benzylalcohol
Natural preservative cleanses bacteria and protects shelf life
Purified Water
Hydrates cells and cleanse away dead skin
Guar Gum
Conditions skin and harmonizes ingredients
That's it. No fragrances, parabens, or hard-to-pronounce ingredients.
---
What Is Malassezia?
This is the fungus causing seborrheic dermatitis, fungal acne, and several other conditions. Malassezia feeds on most oils such as coconut, jojoba, hemp, etc. The Soothing Malassezia Moisturizer is unique because it doesn't contain any oils that the fungus can feed on.
Keeping it Zen
We practice ingredient minimalism. Our goal is to keep the list of ingredients humble while formulating products more effective than anything else. That's why you won't find parabens, sulfates, fragrances, or hard-to-pronounce chemicals. Those are the opposite of peaceful.
The Peaceful Skin Guarantee
We removed all the risk. If you aren't amazed at the results, send us an email within 60 days and we'll send you a full refund. You won't even need to return the bottle.
Calming Seborrheic Serum
This all-in-one serum clears away malassezia fungus while soothing irritated skin. Provides relief for the scalp, face, and body.
View Serum
Zen Skin Trio
The the foundation for malassezia skincare. The Zen Skin Trio is the perfect bundle to calm your scalp and face.
View Trio
How to use it
Apply a generous amount of moisturizer to the face, especially the T-zone.

Allow the formula to absorb into your skin, overnight or anytime of day.

Massage in the moisturizer and recite the mantra, "I love myself and I am worthy of care."

Enjoy the peace of mind brought to you by peaceful skin.
* Results amplified when combined with the Calming Seborrheic Serum
Customer Reviews
Write a Review
Ask a Question
01/25/2023
Great Moisturizer
This moisturizer is great for providing moisture without making SD worst.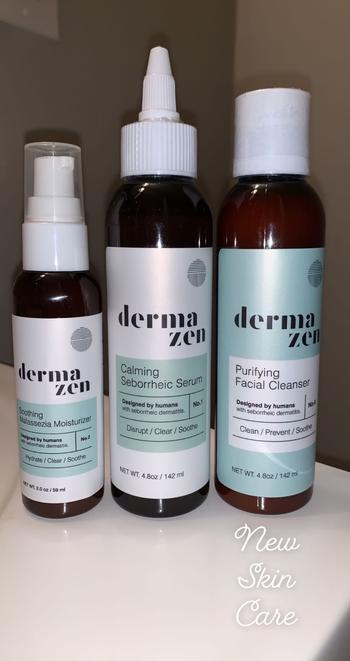 01/19/2023
Try it !
I love it, it works exactly as it's explained. I would recommend & buy again & again.
Jayla S.

United States
01/19/2023
Simply works!
I've tried every product from creams, soaps to help control the dry facial skin around my chin, nose, eyebrows caused by Seborrheic dermatitis. Nothing has worked or provided any significant relief until derma zen. I'm not one who writes reviews, but I was so frustrated until I found this product. Highly recommend it, more than worth its weight in gold.
George Y.

United States
01/10/2023
New HG moisturizer
This moisturizer is perfection. Has 10% urea, leaves a tacky finish (a good thing, esp. for makeup), and doesn't pill when sunscreen is applied on top. Doesn't irritate my skin like every other "gentle" moisturizer; even plain Cerave stung my skin. Actually made my skin look less red & inflamed, and best of all won't feed fungal acne. Only complaint about this is I wish I could buy it in 2x the bottle size as the bottle is quite small.
James C.

United States
01/10/2023
Works very well
My skin feels clear and soft since the first day of use. I also tried using it on top of my favourite serums and it is still effective in fighting my skin issues!
Foram J.

United States
01/09/2023
Simply AMAZING
I started using the moisturizer and calming serum and within days my skin smoothed out. I have always had acne prone, sensitive skin. I get cysts and clogged poors, and my skin LOVESSSS this stuff. I am so happy I found this. Incredible natural ingredients too!? It's a win win win for me.
Joey

United States
01/09/2023
Seems to be working
Seems to have solved my red patches
WICKS W.

United States
01/08/2023
It's good
Definitely works
Ashley G.

United States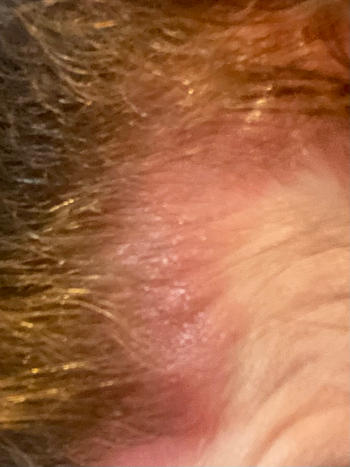 12/29/2022
Helping
It seems to help a bit. But always painful when I apply it on my scalp. I have severe seborrheic dermatitis. Hopefully it will help soon
Anya H.

United States
12/28/2022
My happiness in a bottle
I suffered from seb derm for almost 2 years before I found this product. Before this product, I'd suffer with itchy, dry, crusty and uncomfortable problem areas on my face. As soon as I started applying this moisturizer, my seb derm started fading away. I would keep myself up at night and cry by the way I looked. This product totally changed my life, I couldn't be more thankful by it! If you're suffering, please buy this product!!
Alyssa D.

United States
12/19/2022
Quality Product
I bought this for my daughter who suffers from dermatitis on her scalp and face. She's tried several things recommended by dermatologist with no luck or symptoms made worse. She did research and found this product. Within a few days she experienced results! She was excited to find something to calm her very painful and irritated scalp!
Erin P.

United States
12/15/2022
Holy Grail Of Skincare
I've searched for years for a moisturizer that didn't inflame my skin and for that reason alone it's wonderful, but it being a high quality moisturizer also is icing on the cake. I will continue to purchase this regularly
Matthew K.

United States
Choosing a selection results in a full page refresh.
Press the space key then arrow keys to make a selection.