60-Day Peaceful Skin Guarantee
If you don't love how your skin improves, you'll get a full refund without returning the bottle.
60-Day Peaceful Skin Guarantee
If you don't love how your skin improves, you'll get a full refund without returning the bottle.
Nourishing Hydration & Relief
The Soothing Malassezia Moisturizer hydrates, calms, and protects skin starting from the first application. You'll be amazed at the peace and health of your skin after using this gentle holistic moisturizer.
What's Inside
MCT Oil (C8, C10)
One of the only oils safe for malassezia. Moisturizes skin and clears away fungus
Frankincense Essential Oil
Shrinks pores, improves elasticity, and calms irritated skin
Lactic Acid 5%
Exfoliates dirt, bacteria, and oil while hydrating skin and cleansing pores
Vitamin B3
Reduces oil production, calms redness, minimizes pores, and balances skin tone
Urea 10%
Reduces oil production, boosts hydration, and gently exfoliates leftover skin
Hyaluronic Acid
Significantly boosts hydration and strengthens skin resilience
See Full Ingredients
---
200x Concentrated Aloe
Soothes irritation, hydrates pores, and nourishes skin with vitamins and antioxidants
Glycerin
Protects skin barrier, improves hydration, reduces redness, and amplifies benefits of urea
Benzylalcohol
Natural preservative cleanses bacteria and protects shelf life
Purified Water
Hydrates cells and cleanse away dead skin
Guar Gum
Conditions skin and harmonizes ingredients
That's it. No fragrances, parabens, or hard-to-pronounce ingredients.
---
What Is Malassezia?
This is the fungus causing seborrheic dermatitis, fungal acne, and several other conditions. Malassezia feeds on most oils such as coconut, jojoba, hemp, etc. The Soothing Malassezia Moisturizer is unique because it doesn't contain any oils that the fungus can feed on.
Keeping it Zen
We practice ingredient minimalism. Our goal is to keep the list of ingredients humble while formulating products more effective than anything else. That's why you won't find parabens, sulfates, fragrances, or hard-to-pronounce chemicals. Those are the opposite of peaceful.
The Peaceful Skin Guarantee
We removed all the risk. If you aren't amazed at the results, send us an email within 60 days and we'll send you a full refund. You won't even need to return the bottle.
Calming Seborrheic Serum
This all-in-one serum clears away malassezia fungus while soothing irritated skin. Provides relief for the scalp, face, and body.
View Serum
Zen Skin Trio
The the foundation for malassezia skincare. The Zen Skin Trio is the perfect bundle to calm your scalp and face.
View Trio
How to use it
Apply a generous amount of moisturizer to the face, especially the T-zone.

Allow the formula to absorb into your skin, overnight or anytime of day.

Massage in the moisturizer and recite the mantra, "I love myself and I am worthy of care."

Enjoy the peace of mind brought to you by peaceful skin.
* Results amplified when combined with the Calming Seborrheic Serum
Customer Reviews
Write a Review
Ask a Question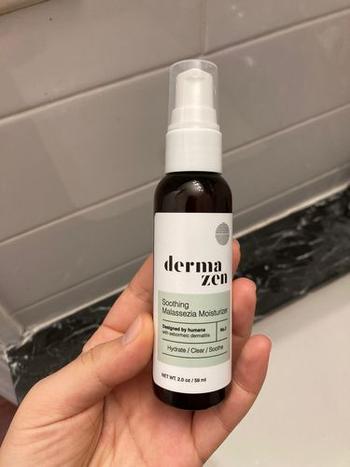 01/02/2022
A nice moisturizer with a serum-y texture. Calms my redness. Only wish is that it smelled nicer!
02/15/2022
I've been struggling with skin issues on my face for over a year. I've been to 4 different dermatologists who have diagnosed me with rosacea, eczema, perioral derm and seb derm. I have all the topicals but they didn't seem to work. I would go weeks with itchy, dry, flaking skin. I started using the Malesesezia moisturizer + ketoconozole when my face gets itchy and it resolves in a day or two!
02/01/2022
Does not work on my skin. A waste of $$
02/01/2022
Purchased the moisturizer and serum to treat scalp, face, and ear folliculitis. Works very well as a daily treatment. I saw results quickly. I especially like the serum which is soothing and antimicrobial. I recommend this product for fungal/bacterial skin infections.
01/04/2022
I have tried so many products for my fungal acne, this moisturizer is the only thing that gets deep into my skin and makes it feel moisturizer. Would love a larger bottle size
12/26/2021
I can't tell if it's helpful yet I think the high concentration of urea may be too strong and possibly the lactic acid .I feel more red when using it .
12/20/2021
So far I'm impressed! I was a little disappointed by the size of the bottle at first, but after my first use it made sense. I've tried every moisturizer under the sun it feels like… gobs and gobs of it. They tend to leave me feeling still dry, or greasy - forget trying any type of foundation. But seriously, after my first day with this moisturizer, my skin felt and looked completely different. I wasn't oily, the redness was drastically reduced, and I didn't feel dry at all. If you're on the fence, I definitely recommend trying it. As someone who's struggled with this skin condition for what seems like my whole life, I have a feeling this is going to be my holy grail. As someone else mentioned, I'll likely stick to using the serum on my scalp, because I don't think I'm going to need much else after this moisturizer Last thing - the texture is more like a serum and not like your typical moisturizer. It's a bit on the sticky side until it soaks in, but once it does it really feels amazing. Only nitpick is I wish the pump was a little smoother. I've found about a pump and a half does the trick for my face but it's hard to pump out just a little at a time. Hoping it gets smoother with use. Ok that's it! Get this now! I never write reviews, and this is seriously worth ever drop. Can't wait to see what this crew comes up with next!
12/19/2021
I have SD on both eyelids. Due to the delicate nature of the area, most doctors wont do anything and I end up bouncing around to different specialists who pass me along to another one. This lotion has been a Godsend for me! As long as I use it once a day, the flaking is minimal. THANK YOU!
12/13/2021
Nothing has cleared and soothed my sons' skin since he began having issues four years ago. We've also used the Dermazen scalp product and in one use, his lifelong cradle cap/dermatitis cleared and healed. I'm am amazed. I only use natural products and I'm so happy to find something that works! And heals. I'm so grateful for your products.
Choosing a selection results in a full page refresh.
Press the space key then arrow keys to make a selection.