Success! XMASGIFT Applied
Holiday Special: Buy 2 items and get the third free!
#1 NATURAL SOLUTION TO FLAKES & ITCHING
Dandruff is not dry skin. It's fungus.
Your scalp is flaking because a fungus (known as malassezia) is bothering your skin. Before you can get rid of your dandruff, you need to clear away the fungus first.
What People Are Saying
"If you're anything like me, you've probably been searching for years for some kind of "magic cure" for your dandruff. While this isn't some magical permanent cure, it is the next best thing. I'm beyond thrilled with my results, and this product far exceeded my expectations. It's hard to believe that after 7 years of searching, I have finally been rid of that discomfort. And to Dermazen: Thank you so much for this. You helped with what no other skin product, shampoo, or prescription ever could do for me." Ashleigh K.
"Listen here y'all! I don't even know where to begin… About a year ago my scalp started busting and sprouting dandruff. Since then, I have tried a million different products and homemade concoctions to fix it. So it probably took me a month to get the nerve to try this. DO IT! Make the purchase! Add it to your cart right now. I just took my scarf off to investigate and I'm still standing here in disbelief for the last 20 minutes. I had to do this review immediately. Unbelievable! Almost shed a little tear. Enjoy!" Tiffany P.
"This stuff works…plain and simple. No more embarrassing haircuts. No more wearing hats all the time in an effort to cover up. No more leaving a trail of little breadcrumbs everywhere your head lays. After one week of moderate use in conjunction with dandruff shampoo. Boom, gone. I now just use it once or twice a week for maintenance and it's been staving it off. Super impressed. Great product!!" Nicholas S.
If Dandruff Isn't Treated, It Gets Worse
When dandruff becomes severe, it evolves into seborrheic (seb • or • ray • ic) dermatitis. It can even spread to the face causing redness and flaking around the nose and eyelashes.
That's why our most effective dandruff formula is called the Calming Seborrheic Serum.
Two Secrets to Stopping Dandruff
Most dandruff treatments fail because they don't neutralize the biofilm protecting the fungus and they contain oils that feed the fungus.
Secret #1
Disrupt the Biofilm
The fungus causing dandruff has a biofilm "shield" that blocks antifungal treatments.
Dermazen dissolves this biofilm naturally so the fungus can be removed.
Secret #2
Starve the Fungus
The malassezia fungus feeds on oils like coconut oil, shea butter, jojoba, etc.
If you want lasting relief, you need to soothe your skin without fungus-feeding oils.
Trusted By Experts
"I have been recommending the Calming Seborrheic Serum to my patients with seborrheic dermatitis and psoriasis and they have seen significant improvement in their skin."
- Dr. Maria Bonilla
Why Other Dandruff Treatments Fail
Most dandruff treatments fail because they don't neutralize the biofilm protecting the fungus and they contain oils that feed the fungus.
| | |
| --- | --- |
| Other Treatment | Dermazen |
| Doesn't treat the biofilm | Safely disrupts biofilm |
| Feeds the fungus | Formulated without oils |
| Harmful chemicals | Potent natural ingredients |
Other Treatment
Doesn't treat the biofilm
Feeds the fungus
Harmful chemicals
Dermazen
Safely disrupts biofilm
Formulated without oils
Potent natural ingredients
What's Inside
200x Concentrated Aloe
Soothe your irritated scalp and calm inflamed skin
Xylitol
Naturally disrupt the biofilm layer to weaken the fungus
Grapefruit Seed Extract
Eliminate fungus and boost antioxidants
Tea Tree Essential Oil
Calm inflammation and eliminate fungus
See All Ingredients
---
Dead Sea Salt
Clear away malassezia and nourish your skin
Rosemary Essential Oil
Reduce oil and increase blood flow to hair follicles
Hyaluronic Acid
Reduce dryness and strengthen skin resilience
Colloidal Silver
Disrupt the biofilm and clear away fungus
Niacinamide
Reduce redness and balance your skin tone
MSM
Reduce inflammation and free radicals while increasing collagen
Urea
Boost hydration and exfoliate dead skin
Purified Water
Hydrate and cleanse your skin cells dead skin
How to Get Rid of Flakes & Itching
Start by applying a generous amount of the serum to your scalp.

Massage in the formula as you thank your body for all its hard work.

Allow the serum to absorb fully overnight.

Wash it out in the morning with your shampoo of choice.

Finally, enjoy a life free of itching and flaking.
Customer Reviews
Write a Review
Ask a Question
01/10/2023
Pretty Good
I apply this when my scalp is itchy or shedding and it calms it down. However, be ready to take a shower if you need to style your hair as it creates a wet gel look.
01/09/2023
The best stuff ever
I started using the moisturizer and calming serum and within days my skin smoothed out. I have always had acne prone, sensitive skin. I get cysts and clogged poors, and my skin LOVESSSS this stuff. I am so happy I found this. Incredible natural ingredients too!? It's a win win win for me.
Joey
United States
01/09/2023
Healing energy
A skin calming addition to your regiment
Patrick O.
United States
01/08/2023
Good product
Kind of burns at first. But I think it helps
Ofek K.
United States
01/03/2023
Excellent
This worked really well for me. Saw results almost immediately
MICHAEL S.
United States
12/31/2022
Amazing!
I have battled seborrheic dermatitis my entire life. I've used prescription topical treatment and tried other more natural treatments on my own. Nothing has worked for me like Dermazen, to the point I'm am about to invest in the entire set. I have zero redness, zero flakes and peeling within a week after using, which means less itching as well. Please stay in business forever! You have a customer for life!
Shelley H.
United States
12/31/2022
Seems helpful but process is difficult
I think it is helping, but washing hair/applying/letting it sit/washing hair again is a tough thing for me to build into my day. I have started braiding my hair after using it to manage because it is tacky when you leave it in and that is tricky with long hair. However, it does seem to be working. Overall my scalp is much more comfortable. But it does require regular use it seems. The price is hefty for how much you get which is unfortunate. So, overall, it seems good but working it into your routine can be tough and the price is high.
Kalie H.
United States
12/31/2022
Bump cure!
Had an issue with tiny raised tiny pore bumps and this completely smoothed out my skin. One star off because it is very liquidy so I would call it a toner, not a serum. Ordering another one right now!
Sophie T.
United States
12/31/2022
Great experience
Works and is a game changer
Shaye N.
United States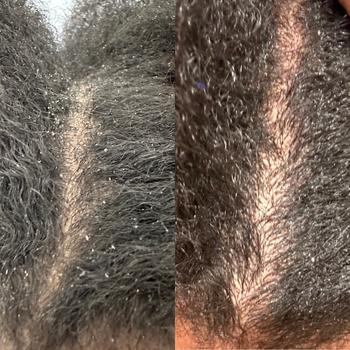 12/30/2022
Surprised
I've tried numerous products in my lifetime, trying to alleviate my scalp issues. Nothing has worked. My expectations were low, but this exceeded them. The serum has greatly reduced my seborrheic dermatitis; I'm truly impressed and will continue to use.
k t.

United States
12/30/2022
Great
My scalp feels a lot better while using this product. I love it!!
Mary L.
United States
12/30/2022
Helps control seborrheic flare ups
Have been using twice daily for about a month and notice fewer flareups of facial seborrheic dermatitis. Would purchase again.
Tyler W.

United States