Success! XMASGIFT Applied
Holiday Special: Buy 2 items and get the third free!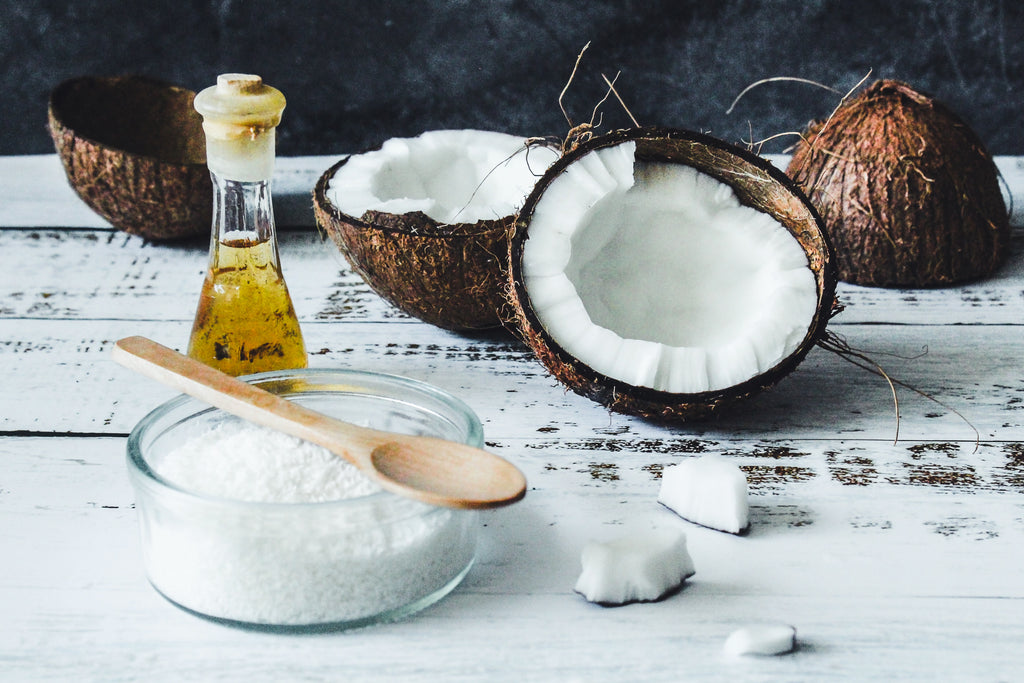 Can You Use MCT Oil For Seborrheic Dermatitis?
MCT oil has seen tremendous growth in popularity over the past few years. Not only has it garnered massive attention as a popular supplement for athletes and fitness enthusiasts, but its use in cosmetic, skincare, and hair care products has also skyrocketed.
It's common for those affected by seborrheic dermatitis to wade through a host of natural treatment remedies, such as apple cider vinegar, tea tree oil, and sea salt, before finding something that works for them.
Recently, though, MCT oil has claimed the spotlight as an option to treat skin conditions related to fungal growth, including fungal acne, thrush, and seborrheic dermatitis.
What Is Seborrheic Dermatitis?
Say you always notice extremely itchy and sensitive patches of skin on your scalp, face, or chest. Or perhaps, you struggle with the frequent appearance of whitish or yellowish skin flakes, distinct inflammation at the affected area, and significant scaling of the skin.
All these signs and symptoms point towards a likely culprit—seborrheic dermatitis. Occasionally, those significantly affected by this condition may even experience hair loss or a secondary bacterial infection.
Seborrheic dermatitis currently ranks as one of the most common skin conditions worldwide. Though dandruff and seborrheic dermatitis cumulatively affect more than half of the adult population, the actual cause of these conditions has yet to be determined concretely. [1]
Nonetheless, research conducted over the years has led scientists to believe that an interplay of factors is responsible. One of the primary mechanisms could be attributed to the rapid growth of a fungal species called Malassezia on the skin. [2]
What Are MCTs?
In essence, MCTs, or medium-chain triglycerides, are saturated fatty acids naturally present in many types of food, including dairy products such as milk, yogurt, and cheese. MCTs are also commonly found in coconut oil and palm kernel oil.
What is the composition of MCTs?
Medium-chain triglycerides are a type of saturated fat, meaning that they are composed of building blocks known as fatty acids.
Without delving too deep into the science behind it, saturated fat can be classified into three main groups: Short-chain, medium-chain, and long-chain fats. Which category they fall into depends on the number of carbon atoms that make up the chain. [3]
There are currently four types of MCTs: 
Caproic acid (6 carbon atoms)
Caprylic acid (8 carbon atoms) 
Capric acid (10 carbon atoms)
Lauric acid (12 carbon atoms)
How does MCT oil tie into the whole picture?
MCT oil is composed of 100% MCTs, hence, its name.
Because MCT oil is said to possess potent antibacterial, antifungal, and anti-inflammatory properties, it has been trialed and tested by some as a natural remedy for seborrheic dermatitis.
MCT Oil Vs. Coconut Oil
The fact of the matter is this—MCT oil and coconut oil share some similarities. But there is a principal difference that sets one apart from the other.
MCT oil is manufactured via the purification of coconut oil or palm kernel oil.
This process removes the other compounds and concentrates the MCT oil. During this process, capric and caprylic fatty acids are segregated and extracted from the rest. [4]
On the flip side, coconut oil is derived directly from the meat or kernel of coconuts. It does not undergo the same hydrolyzation or refinement process as MCT oil.
Because of this, coconut oil is one of the richest sources of lauric acid. In general, 50% of its composition is attributed to this fatty acid, while its caprylic and capric acid content is much lower than MCT oil. [5]
To sum it up, coconut oil contains a much higher composition of lauric acid, while MCT oil is primarily rich in capric and caprylic fatty acids.
So how does this difference relate to seborrheic dermatitis?
Seborrheic dermatitis is caused by this usually harmless skin fungus, or more specifically, a type of yeast called Malassezia. A proliferation or rapid overgrowth of this fungal species is believed to be one of the potential triggers of seborrheic dermatitis flare-ups.
Malassezia is lipophilic. In other words, this yeast is attracted to oil, and hence, it feeds off the natural fats on our scalp called sebum. In addition to that, some hair care products and scalp treatments may contain certain types of oil that fuel the overgrowth of this fungus, ultimately causing more harm than good.
Malassezia feeds mainly on lipids or oils composed of longer-chain fatty acids, specifically those containing 11-24 carbon-atom chains. As mentioned earlier, coconut oil has a high percentage of lauric acid, a longer-chain fatty acid comprised of a 12-carbon chain.
Therefore, coconut oil is more likely to be food and fuel for Malassezia growth.
This explains why coconut oil and vegetable fats like olive oil may aggravate or worsen your seborrheic dermatitis.
On the other hand, MCT oil is primarily rich in capric and caprylic fatty acids, which do not contain more than 11 carbon atoms per chain. As a result, MCT oil is much less likely to feed the fungus responsible for seborrheic dermatitis. In contrast, its antifungal properties may confer several benefits in terms of seborrheic dermatitis treatment. 
In addition to this, those with dry skin may also benefit from MCT oil as it may help improve hydration and fortify the skin barrier.
How Can You Use MCT Oil?
MCT oil is one of the few safe oils you can use when treating seborrheic dermatitis. MCT oil is applied topically to the affected area of the skin and scalp. Importantly, you should select an MCT oil product that does not contain lauric fatty acids, as this may negate any possible benefits.
We recommend massaging a few tablespoons of MCT oil into the affected area and leaving it on overnight before rinsing it off the next day. Because oil can stain fabrics, it's always best to keep at hand dark-colored pillowcases for nights you'll be using a topical remedy such as this.
If you're using MCT oil on your scalp and hair, there is a possibility of experiencing other added benefits. For example, MCT oil may help combat itching and dandruff and enhance the hydration of the hair, leaving you with healthy, smooth, and shiny hair.
So Is MCT Oil An Effective Remedy For Seborrheic Dermatitis?
There is no one-size-fits-all cure for this skin condition. Most treatment options only help to induce and maintain remission and combat symptoms. There's always that chance of recurrence. 
There are anecdotal reports of people who have used MCT oil, then noticed that their seborrheic dermatitis was cleared entirely. But the fact is that no scientific studies or research has proven this to be an effective management option. Therefore, finding what works for you may come with some trial and error.
But we may have a solution for you.
The Calming Seborrheic Serum does not contain any oils or fats that feed Malassezia. 
Instead, this all-in-one serum helps to calm irritated and sensitive skin, and at the same time, clears away Malassezia fungus to combat seborrheic dermatitis. Additionally, it helps reduce dandruff, flakes, and itching, all while enhancing hydration and improving the skin barrier's function.
Plus, a peaceful-skin guarantee is on the table—if the results aren't satisfactory, shoot us an email within 60 days, and you'll get a full refund. Keep the bottle, too. We won't need it back.